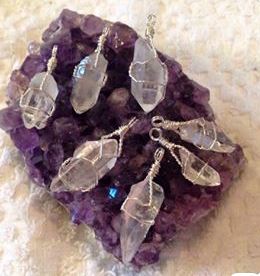 Wire Wrapping Workshop For Beginners
Maya is BACK and GOSH ARE WE EXCITED! She is bringing back her WIRE WRAPPING WORKSHOP FOR BEGINNERS so that you can learn to create with wire.
If you have ever wanted to learn how to make jewelry from wire, how to wrap crystals and stones into pendants, or just how to make pretty things to hang in your windows, and you didn't know where to start, then this introductory to wire artistry workshop is for you!
We will cover everything you need to know on the various hand tools available as well as all the different varieties of wire that can be used for wrapping and crafting. You'll also learn how to do a simple and basic, but very versatile, style of wire wrapping called a "Cage Wrap".
After this 90 minute class is completed, you'll be prepared with all the knowledge that you need to start creating with wire on your own!  And you will leave this class with two wire wrapped quartz crystal point pendants that you created yourself!
When: Oct. 8, 2022
Time: 12PM
Price: $45
Duration: 90 Minutes
We will be using copper wire and natural quartz crystal points.  All materials and tools will be provided.  You are also welcome to bring in pieces from home that you would like to work with.  This class is for beginners and no previous experience is necessary.  The workshop is open to everyone and to all ages.  There are limited spaces available, so book early to reserve your seat!
A REFRESHER FOR ANYONE WHO HASN'T WIREWRAPPED IN AWHILE, AND JUST A FUN TIME SPENT CREATING WITH OTHERS!