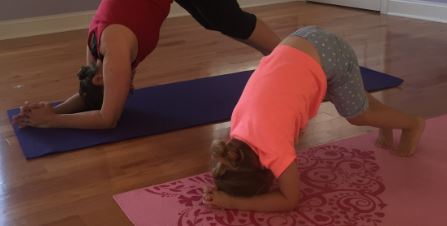 Tiny Trees- The Perfect Yoga Play For 18MO To 5YR
Introduce Yoga Early!
Have you heard about Angela Carver's Tiny Trees classes? This yoga class is perfect for children 18 months – 5 years with an adult (parent, grandparent, nanny).
This class offers children an adventure using music, games and story to learn poses and aspects of yoga. The adult will model poses or help the child into the pose. Each class ends with relaxation and reading a book.
Mondays at 5:30PM and Fridays at 9:45AM – Walk In's welcome.
Note: Children are able to get "student" rate yoga passes at Bliss. The Pass will be in their name. Parent's or Guardian's. Please set up these passes in house and not online.