12/21/12 3PM Free Meditation Event At Bliss – Join Us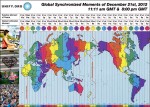 MedMob – A world wide group choosing to meditate with each other once a month. Come join us in unity to enjoy the benefits of meditation.
BlissBlissBliss is so honored to get to host this Month's Morgantown MedMob meditation.
The event is FREE.
Come at 3PM on 12/21
What will happen: Global Meditation which consists of 12 min of silent meditation, 12 min of sounding and 12 min of imaginings.
Bring your mind/body/spirit, instruments welcome. We have the Bliss space, mats, blankets, bolsters and cushions!
PS: Food for thought!