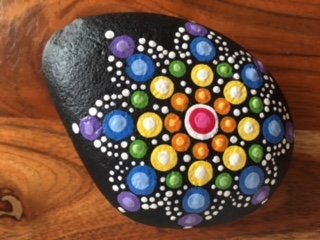 Ganesha's Trunk Show: Dotty For Dot Art
Ever walk through a neighborhood and see a painted rock tucked in between a piece of fencing or planter? Captivating, a little magical, unexpected. This is exactly how you might feel when you paint your own piece.
Wonder how that hidden artist does such a great job? Well think no further. Susan Daniels is that creative friend everyone likes to learn from. She invites you to come learn the art of dotting.
This is a beginner class where you will discuss paints, tools, and techniques. You will complete a rock for a lovely gift, your garden, your home or to leave for someone as a random act of kindness.
[button link="http://spab.kr/asWEXtT" size="medium" align="center"] – Book Dotty For Dots – [/button]
When: Ganesha's trunk Show 4/28
Time: 9:30AM
Fee: $25
Of course All supplies will be provided. 🙂 but PS… Register soon because only 10 spaces!