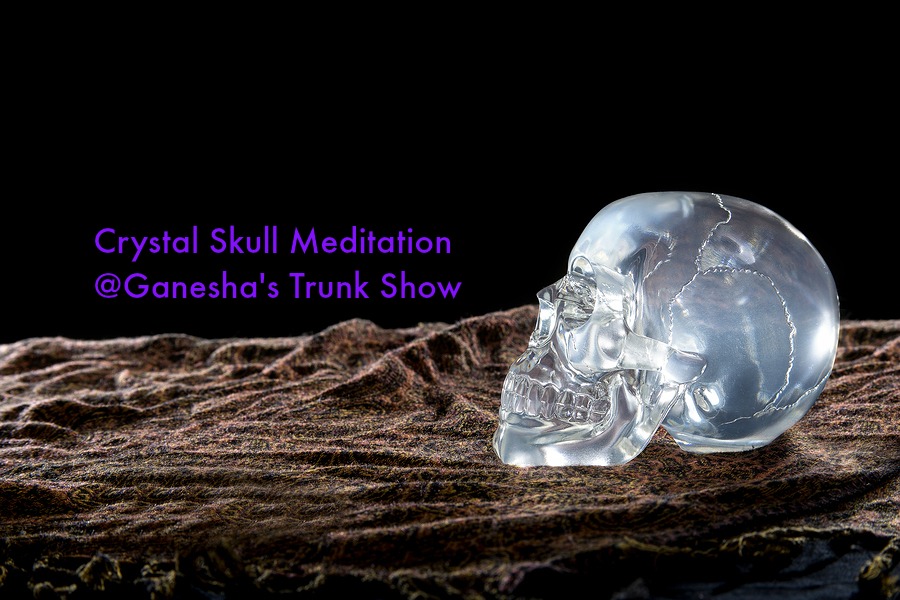 Crystal Skull Meditation @ Ganesha's Trunk Show
It is a fact that meditation has many health benefits. People love to add Crystal Skulls to their practice to receive the energy of the crystalline structure that each skull is carved from. Lory Osborn has delighted in seeking out and caring for Crystal Skulls. Now you can enjoy a private meditation with a few from her collection. In this private meditation session, you can access higher states of consciousness, healing, guidance and information with your crystal skulls through guided crystal skull meditations and visualizations.
Each Crystal has been named and comes with a unique crystalline energy. For your meditation you will be offered several meditation positions (seated in chair, on the floor with bolsters, or lying down), in a calm space. You can then choose one or more of these crystals to join you in your meditation.
[button link="http://spab.kr/esPjbRL" size="medium" align="center"] – $15 Private Crystal Skull Meditation – [/button]
Lory will assist you in preparing for meditation, introduce you to the crystals, help place them in, around or on your body and then leave the room for your silent contemplation / meditation session. Bring your journal if you wish.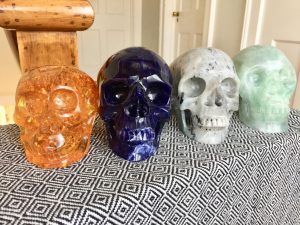 Meet Einstein: This Genius Stone is made from Green fluorite – We love this all-purpose healing stone that promotes self-love and can remove blockages and narrow mindedness – brings in new ideas and creativity – historically used for detoxification, heart issues, digestive system, arthritis, gout and fungal infections.
Meet Chroma: This Labradorite Beauty is the stone of transformation. Brought here to reduce your fears of the future, cleanse the aura, removes bad habits, thoughts and feelings preventing you from reaching your full potential – boosts psychic abilities and sharpens your institution – help you possess a psychic knowing.
Meet Orion: This Poet's Stone is made of Sodalite with a deep intention to help you express all that you want to say in the best way possible. Effective in ending arguments or disagreements. Increases your intelligence and rationality, stimulates your thoughts and gives you mental clarity. Helps provide for emotional balance and inner peace. Choose this in your meditation to increase your metabolism, improve digestion and lower blood pressure.
Meet Oriana: The Golden Sunrise possess very old energy and comes with acquired wisdom of the earth. Discharges all negative moods, deflects negative energies that other may direct at you. Relieves stress and anxiety. Dissolves physical and mental exhaustion and helps eliminate fears and worry. Helps with depression and stabilizes emotions. Reminds you why your life is the most precious thing.
[button link="http://spab.kr/esPjbRL" size="medium" align="center"] – $15 Private Crystal Skull Meditation – [/button]
**If you are planning to take your aura photo during Ganesha's trunk show, we suggest this meditation before hand. **