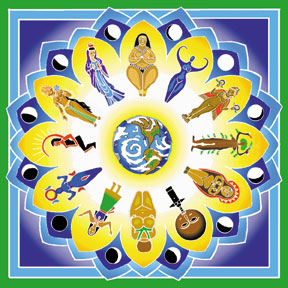 The Goddess Glow Continues in 2013!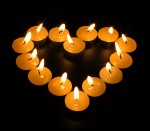 About this Class:
Candlelight Goddess Yoga
Instructor: Heidi Sherwin, RYT, P-RYT
Monthly, 5-class series
7:30 – 8:30pm, Thursdays:  January 24, February 28, March 21, April 25, May 23
$15/class or use yoga pass
There is a space that awaits you, a healing space to nurture and support you… a welcoming space for joy and celebration of the Goddess within you. This space is for YOU… come in, feel alive, release, share, and delight in the Goddess glow!
Welcome to the New Year, Bliss Goddesses! To celebrate, we will dedicate the first 5 classes of 2013 to exploring divine feminine goddesses from around the world.
The Goddess in her many forms is accessible to modern women for divine inspiration and guidance with all aspects of our lives. (Brockway)
Each month, the selected goddess will be our muse as we call upon her wisdom to help illuminate our own inner strengths, passions, and true voice. We will awaken and energize the breath, body and mind with creative gentle vinyasa (flow) sequences that integrate feminine-focused asanas (postures). Restorative poses, trataka meditation (candle gazing) and deep relaxation will conclude each class to soothe and ground the body/mind. Goddess Yoga is for women of all ages and stages.
The Goddess List for 2013
Kali/Durga (Hindu Mother Goddess of Protection)
Venus (Roman Goddess of Love & Beauty)
Maha Lakshmi (Hindu Goddess of Good Fortune)
Sophia (Greek Goddess of Wisdom and Intuition)
Kuan Yin (Chinese Goddess of Healing and Compassion)
More about Goddess Yoga:
Candlelight Goddess Yoga is a monthly yoga class devoted specifically to and for women. The class honors women-centered issues and creates a space through yoga to welcome every woman's right to self-healing, positive transformation and emotional balance. The class is dedicated to the Goddess within every woman and awakening this wisdom, strength and love in a nurturing and encouraging communal atmosphere.
Candlelight Goddess Yoga will allow you to…
Celebrate your inner Goddess
 Feel Balanced… physically, mentally, emotionally
 Be Strong, inside and out
Nurture yourself with self-care, loving-kindness and compassion
Welcome joy and happiness into your life
Instill a sense of community with other women
Be You… Unique, authentic, radiant YOU
If you have questions or would like more information, feel free to contact me at [email protected]
I look forward to seeing you in the candlelight!