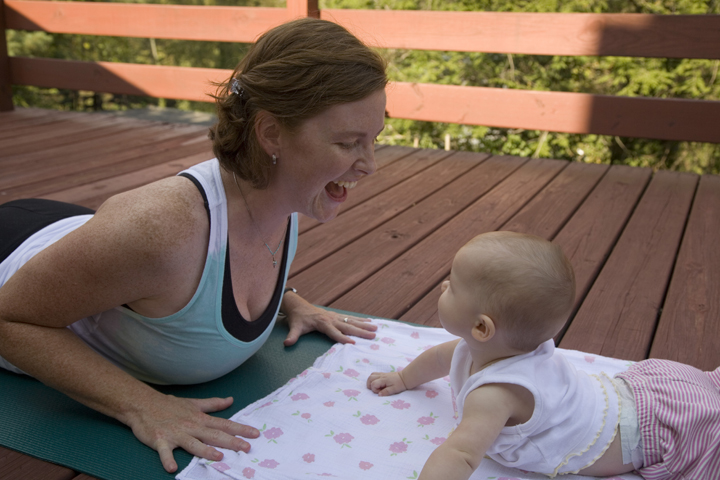 BlissMama & Baby Yoga
Join Heidi Sherwin, E-RYT, R-PYT every Wednesday at 10:30am for BlissMama & Baby Yoga!
BlissMama and Baby Yoga offers a fun and gentle approach to re-strengthening the body after pregnancy and labor, increasing energy levels and providing self-care while socializing with other new mamas and their babies. The poses target core and pelvic muscles, tone arms and legs, and release tension in shoulders and neck. Breathing and relaxation exercises are also introduced to alleviate stress. The class is taught in a supportive, peaceful environment for bonding with your baby. Baby yoga and massage will also be explored in each class. Mothers with babies that are 6 weeks old to active crawlers are welcome.
BlissMama Pre/Postnatal Yoga Program:
The BlissMama Pre/Postnatal Yoga program was developed by Heidi Sherwin,  E-RYT, who has specialized training in Pre/Postnatal Yoga, Yoga for Labor, and Doula care. She has been teaching yoga since 2008 and is the mother to three amazing daughters. BlissMama classes are safely and thoughtfully designed to attend to the pregnant and postpartum mother and her specific physical and emotional needs. Heidi's sincere and joyful approach to Pre/Postnatal yoga ensures a safe, positive atmosphere for mothers-to-be, new mothers and their newborns, and birthing partners. Her long-time interest in mother and baby wellness has inspired her passion to help other women and their supporters on the magical journey of motherhood.
No prior yoga experience required to participate in the BlissMama yoga classes.
Questions about BlissMama&Baby Yoga? Please contact Heidi at [email protected]
Reserve your mat space – register online